Pin-a-go-go is the longest-running Pinball show west of the Mississippi.
LATEST NEWS: the 22nd annual Pin-a-go-go raised $8265 for the Dixon Teen Center!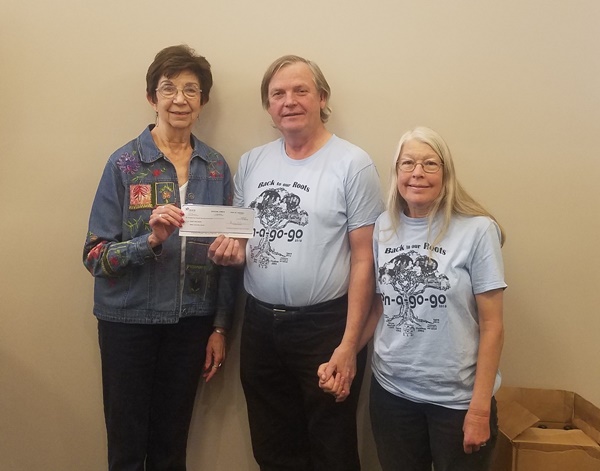 Don and Ellen Highley present the check to Dixon Teen Center for the 2018 show.
Join us for our 23rd annual show in Dixon, CA in 2019.
Please note our new dates.
The "Pin-a-Go-Go":
Pinball machines from six different decades on FREE PLAY

Pinball parts, memorabilia and games for sale

Outdoor Flea Market & Swap Meet on Saturday

Food Service- tempting goodies and a place to enjoy in the shade

RV parking on the premises

Special nearby hotel room rates, see the FAQ page!

Great fun for the whole family!
---
Mark your 2018 calendar now!
Friday, October 12, 2pm to 10pm
Saturday, October 13, 10am to 10pm
Sunday, October 14,

10am to 4pm
Show Special rate at Country Inn & Suites
We have reserved a block of rooms at Country Inn & Suites, 155 Dorset Drive, Dixon. Phone 707-676-5000. Just say you are with the Pin-a-go-go group and you will get the show rate. Reservations must be made by Sept 10th, and they are not cancellable.
Show Special on Stern and Jersey Jack Games
Chris Kuntz, our local Stern and Jersey Jack distributor, has a show special available for new Stern and Jersey Jack Games.
Contact Chris at pinballpirate@gmail.com or 510-304-5403 for more information.
Admission (Cash only)
3-day Pass - $20, 13 & under $10
Friday - $20, 13 & under $10
Saturday - $20, 13 & under $10
Sunday - $10, 13 & under $10

Yes, that is correct. It's $20 admission, either for one day or the whole weekend. Our goal is that Pin-a-go-go is family-friendly, and affordable for a family of 4.

Note that there is an ATM machine near the entrance. In an effort to bring you the best show we can and to keep costs this low, we will only be accepting payment in cash.
Parking is free, please see map below.

Proceeds from this event...
This annual event has long been supported by pinball enthusiasts from all over Northern California and helps local youth charities. Many people bring their pinball machines to share, the organizers and volunteers are not paid to put on the show, we spread pinball joy and everyone benefits!
Through the years, thousands of dollars have been raised for local Boys and Girls Clubs and the Dixon Teen Center (DTC).
Location
Click here for map
The Pin-a-go-go is located "in the middle of everywhere" as we are only 28 miles from the
Sacramento International Airport (SMF),
about 25 minutes southeast of Sacramento, 1 hour east of San Francisco. The
Pacific Pinball Museum
is about 63 miles away as well.
Food Service:
Smell something cooking? We will be offering an array of sandwiches, chips, snacks, ice cold soda/bottled water and other goodies! Tables are provided nearby--so plan to have a meal or a snack at the show this year!